I've read the book. It touched me in a way that none other besides the Bible ever has. I've even given away copies of the book because I love it so very much and I desperately want each and every one of you to know what a life of gratitude is like- not because of what we have - but because of who He is. And, so I am beginning my online count in order to share with you the gratitude which fills my heart:
Get a copy for yourself - be prepared to change
Participating with this group: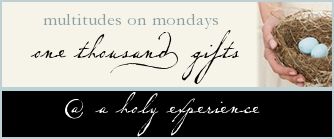 #1 - for the dreams of a little girl, and for bringing them to fruition
#2 - for the gifts from the sea - the lovely sea shells that always make me smile
#3- the sunsets You paint the sky with
#4 - sand between my toes
#5 - fresh air and sunshine
#6 - healthy little boys jumping through the waves
#7- the husband who works hard all day and loves to be at home
#8 - little boys who each slip in one at a time just to give a hug while I write, and quietly slip out
#9 - peace in the storm
#10 - soft music playing in the background
#11 - rough hands, hard working, soft heart- the man who still adores me
#12 - pain, yes- because without it I my journey would be different
#13 - unbridled laughter of brothers in the yard
#14- visit from a special sister in-law
#15 - eyes wide open, boundaries
#16 - cooler mornings that warrant hot tea with sugar and cream
#17 - true friends even far away who remain close to the heart
#18 - big shiny blue eyes - excited, full of love
#19 - courage to do what is right, when it is the hard thing
#20 - special "sisters" new friends I've never even met who are bonded in a way that
some will sadly never understand
#21- the woman, the "stranger" who went to her knees - quietly in her closet today
petitioning God for my healing - thank you!
#22 - parents who taught me to dream
#23- my dream come true (there they are! my beach boys! all 4 of them!)
#24 - reflections in the water
#26- boys who wrestle and chase and spit and jump
#27- the gentle breeze bringing cooler weather to a hot Florida climate
#28- outdoor movies and special friends
#29- food that's cooked outside and meant to be shared
#30- sweet friends who pray & encourage during times of pain
#31- the trials which bring the Grace!
#32 - Tears streaming, joy deep.
#33 - Listening to you sing in the next room, as I count
#34 - Time together every day exploring creation
#35 - Knowing it's not my will, but His
#36 - Messy school table with glue, paper, and paint
#37 - Dirty hand prints on the walls
#38 - Learning to walk in joy
#39 - Miracles. Real miracles in the details
#40 - Painted skies full of promise and love and healing
#41 - Campfires and hearts glowing happy
(whoops- 2 #41's)
#41 For His faithfulness in making Himself known to me
#42 Seeing God working in the hearts of my children
#44 Ancestors making the journey
#45 Freedom to worship Him as I see fit
#46 Precious family time with extended family
#47 Watching cousins play together
#48 Children loud, laughing
#49 Husband working, working hard, always willing
#51 Some of whom I've never met- #52 The wonderful family I share my days with -
#53 Friends who've lasted through the years-
#54 Parents and siblings who share precious memories-
#55 and a new friend who will hit her knees in prayer for a stranger-
#56 willing to drive for hours to connect with a sister -
#57 a fellow homeschool mom who puts her whole heart into all she does
#58 for her wonderful boys who are a joy to be with
#59 for kindred spirits who will take a chance and listen as God guides
be it for an unconventional road trip to visit with a "stranger" or
a life changing mission to serve Him
#60 a friend who will share scriptures and a message with my children
sweet devotions - Advent - as we count down to Christmas
#61 one who cries when she prays for others
because she cares THAT much and has a deep desire to see them
healed and whole- free from pain.
#62 grateful for my gifts from the sea and a soul sister to share them with!
#63 loved spending time in nature enjoying the great outdoors with another homeschool family
#64 grateful that our God can use - even the internet - and twitter for His purpose -
#65 stunned by His success in bringing such a wonderful friend right to my front door
#66 thankful that she makes such yummy cinnamon rolls from scratch!
(even grinds her own wheat)
#68 Remembering what the holidays are really all about by sharing His love
with my children during Advent as we count and enjoy colors of the Christmas season!
#69 for medicine that helps me walk and get around
#70 for access to care when it's needed
#71 a bathtub full of hot water and jets that wash away pain
#72 little boys who care and love with soft touches and tender hearts
#73 a husband who never falters and is always on the ready to help, who doesn't
complain when I need rest, and jumps right in even after a full day of work
#74 a friend who brings special healing oil and prayers
#75 friends who lift me up in prayer on a regular basis and give support and love
#76 fresh air and sunshine that lifts my spirits and helps me remember to be grateful
#77 that I'm surrounded by loved ones
#78 for a healing to come - I believe- I believe!
#79 For examples like Anita who testify to His faithfulness and show me how to walk - how to live
#80 constant reminders from up above that I am loved and I cared for -
#81 I'm
a child
of the living King -
#82 Thanking Him for the memory of Jeffrey
#84 important life lessons
#86 opportunity to teach my children truth daily
#87 His grace and forgiveness - even though I don't deserve it
#89 doors slamming as healthy children rush out
#90 reminding me to *s*l*o*w*
#91 the one who paid it all
#92 the King who chose a manger for his bed - and the cross instead of a throne
#93 - #102
- quiet time with my Creator
- special time with my family
- our adventures
- exploring God's creation and soaking up it's beauty
-watching dolphins play
- seeing beautiful birds soar high
- listening to my children laugh
- watching as my good husband gently instructs his boys in the ways of nature
- gratitude for the gifts He has given me
- setting aside time to reflect on all of the above
103. the man who takes time to teach his boys about the important things in life (like surfing)
104. and how to treat a woman with respect
105. who plays with his family on a regular basis
106. a man who puts God first by serving his family
107. one who loves us
108. who cares what God wants and expects of him
109. who works hard every day
110. yet still finds time to give his boys the attention they need
111. to become the men God wants them to be
112. and who adores their mother
112. the broken pieces don't go to waste
113. glimpses of His light
117. the opportunity to grow
118. doing it together - always together
119. strength that can only be HIS
120. online book clubs and relationships which encourage!
121. opportunity to conform daily
#122- For new friends and words of encouragement
#123- Freedom of speech and to write :)
#125- Quiet time of reflection
#126- Washing machine/ dryer
#127- Freedom to worship Him as I see fit
#128- Seeing the Holy Spirit at work in the hearts of my children
#129- Grace when my heart isn't right
#130- A new day and a fresh start
#131- A child's perspective
#132 - dirty faces
#133 - bumble bees and other bugs which fascinate and hold captive
#134 - a fine good man
#135 - colors of nature
#136 - everyday adventures
#137 - gentle spirits in little wild boys
#138 - quiet moments to be still
#139 - beauty in the tiniest of details
#140 - the whisper
141. afternoon walks in the fresh air
142. breeze across the water
143. rays of light through fruit trees
145. friends who will pray, love, and support
146. beautiful details of my pretty shells
148. opportunities to see miracles, even when they come disguised as problems
149. shelter of His wings
150. One body and making connections
151. Misty morning view of the first rays twinkling on the water
152. Sun sparkling off of blond bobbing heads
153. Casting cares, laying them down
154. Peace that passes all understanding
155. The tiny details in nature where I see the Master's hand
156. Reminders of gratitude
157. Opportunity to encourage
158. Sharing love
159. Bright red berries against the bright blue sky
160. quiet moments with my children
161. peace by the water
162. pure delight at the splash of a bird after prey
163. awe and amazement as he swoops down upon his dinner
164. finding just the right stick to tie with a string - a hook for bread
165. impatient little boys learning to be patient - inspired by nature
166. learning together about God's creation
167. watching boys share and help each other
168. joy in learning that such a little bird can be so powerful
169. resting in the truth that He cares for us and knows our every need
170. my daily gifts from the sea
171. dreams realized
172. earnest prayers of a child
173. sharing with my own children
174. hearing their prayers
175. all the wonderful birds in our area
176. simple pleasures of sand between the toes
177. singing on the beach
178. the grace of dolphins
179. wonders that never cease
180. Remembering Child-like Faith
181. Unending Mercy and Grace
182. Newness
183. Edification of the Soul
184. Opportunity to build up and not tear down
185. Freedom from sin - to live as a new creature
186. The women in my life God has carefully placed there for edification of my spirit
187. Paul's words in Ephesians - so many good words to live by
188. Sweet little boys who are learning to speak kindly one day at a time
189. A very special butterfly
190. Confirmation in that special God - like way
191. Faithfulness unending, when I just don't deserve it
192. Gifts of friendship
193. Real, down to earth women who will share their hearts and even their failures
194. Overcoming fear
195. A cousin/ sister and her husband who will keep all three boys for me
196. Actually missing my boys
197. God's blessings on our home and business
198. Everyday miracles - and taking the time to notice them
199. Being on the road - another adventure with the boys
200. Distance cannot separate Christian sisters
#201 - A Christian family and home
#202 - The opportunity to share Christ with others
#203 - The freedom to share Jesus with others
#204 - Gift of the gospel that we can know truth!
#205 - Experience of seeing others come to salvation
#206 - Having Jesus be the center of our home and lives (with my own children)
#207 - Legacy of Faith to pass to my children
#208 - Courage to speak boldly - to stand up for Jesus
#209 - Personal relationships developing in my own children with the Lord I love
#210 - Bearing witness to His grace and forgiveness - His love!!!
#211- I am so grateful for all who have prayed for me and encouraged me - you are a gift!
#212- That God can move mountains when we trust Him
#213- He brings us what and whom we need in His perfect timing!
#216- Revival in my heart and in my spirit
#218- Having my children bear witness to the miracle in my life
#219- Mr. Tommy - my brother in Christ - my friend
#220- No words to describe my deep gratitude for a Creator who LOVES me and HEALS me!
#221. Singing scriptures with my children
#222. Learning from other mother's who love the Lord
#223. Growing with Christian sisters
#224. Encouragement from a stranger
#225. Grace and strength to push through
#226. A fresh start - a "do-over"
#227. Hearts turning toward Jesus
#228. Music filling the house with songs of praise
#229. Laundry almost caught up - one thing at a time
#230. Children soaking up the Word and being a witness to their heart changes!
#232 - faithfulness of the Almighty God
#243 - this online book club
#234 - encouraging friends who pray
#235 - grace on a daily basis
#236 - authority over darkness
#237 - power in the blood
#239 - little one's learning to follow after God
#241 - heart changes
#242- time to watch the birds
#243- quiet moments before the boys get up
#244- real change
#245- seeing God move in the hearts of my children
#246- hearing brothers pray together without my instruction
#247- biblical priorities taking shape in our home
#248- healing hearts
#249- family pulling together to encourage each other in Christ
#250- seeing the passion ignite to show others our Jesus
#251- Teaching little boys to stick fish like I did as a girl
#252- Spring days when a "cold front" means 74 degrees and a breeze
#253- Visits to the country
#254- Fellowship (In)RL with blogger friends
#255- Kindred hearts
#256- Historic lighthouse field trip with a view
#257- Dolphins jumping in the pass
#258- Communication with my boys
#259- Boys learning Bible verses
#260- Little hearts turning to Jesus
#261- So grateful for my faithful God Who brings me the information I need
#262- For friends who encourage and pray
#263- Daily blessings of love and laughter
#264- Getting through to little hearts
#265- Family bonds
#266- Seeing the Holy Spirit working in the lives of my children
#267- Flowers/ weeds from proud little boys
#268- Sparkles in the eyes
#269- Little boy prayers that come from the heart
#270- Relationships blooming from boys with their Savior
#271 - Little boys who still want to marry their mommy
#273- Weeds picked on a daily basis and delivered with chivalry and pride
#275- Sheepish little impy grins as they ask more questions about their parents love story
#276- The opportunity to study with friends - some IRL and some virtual
#277- Women to encourage each other - who want to serve their families and the Lord
#279- Boys with a heart for the things of God
#280- A walk on the beach - full heart - happy feet
#281- God gave me my dream come true
#282- The man I walked these beaches and prayed for as a child was sitting in the
very same church that I was (and yet we didn't know each other)
#283- God brought him to me - and introduced us on the same beach I'd walked
as I prayed for my future husband
#284- God knows our needs
#285- His plans are perfect
#286- God's grace (as I regularly fail)
#287- My husbands love and His special heart
#288- His trust in me and the blinders he wears when it comes to my faults
#289- A husband who takes an active role in parenting and loving our boys
#290- A new day to do better - to be a Proverbs 31 woman
#291-
a husband who doesn't complain about my short-comings (there are many)
#292-
study group of woman who encourage each other to keep growing
#
293
- joy of frugal finds for the family
#
294-
real love and passion for my husband
#
295-
Grace from the God of Creation as I try and fail regularly
#
296-
an adventure with my children this weekend
#
297-
selfless man who loves us
#
298
- praying - encouraging friends
#301 - #309
* toothless grins from happy boys
* sleepy little ones sneaking into my bed in the middle of the night (they won't always do that)
* swthe eet sweet husband to love and serve
* dead bugs - yes - for the boys to play scientist til their hearts content
* air condition in the tropics
* boys learning bible verses - and enjoying it
* special time with old friends this week
* God's hand on our family
* boys who still want to kiss their mommy
* dirty fingerprints here and there (and everywhere sometimes)
#310 - #319
*crashing baseball against metal bat - swung by healthy boy
*little boys who walk like little men
*catching 7 yo staying up late - to read the Word
*learning Scriptures with excited boys
*that a box of Bible Bee kit would bring joy to little faces
*glimmering eyes - sparkling excitement over small accomplishments that mean so much
*passing storm
*someone special obeying the rules - growing toward Jesus
*kitchen time with boys who love it!
*sweet friends voting for me in top 25! (touches my heart)
#320 - #329
Picking up where I left off (knowing it's o.k.)
Remembering gratitude - deep real heart changing gratitude
cuddles
little boy excitement over lizards, turtles, and frogs (every. day.)
whitewater adventures
Teach Them Diligently - encouragement for homeschool moms
Creativity
Smell of the rain - just before it washes away the summer heat
Salty air & sea breeze
Good daddy and a good husband/ daddy for my boys
#330 - #339
Another "toof" lost & money under the pillow
It's sand dollar season in Boca - I love them more than money
Family movie night still excites my boys - and ice cream
Babies growing up so fast, although I'm unable to slow the time, I'm so thankful for these everyday moments - thankful I am home with them every day
God's faithfulness in our finances as we obey His will for us and sacrifice so I can stay home
Family time with cousins
Exciting vacation plans
Creative outlets - feeding the soul
Simple walks on the beach
Property taxes. paid.