Our new friend here was a little on edge
because of the school bus that came by
just before we did.
He strutted around all puffed up for a little
while until he felt confident enough to just
go about his business - which was the all
important business of chasing the female
ostrich. Of course she was doing her best
to pretend that he didn't exist.
It had been years since we'd been to
Lion Country Safari- our family has grown
since then. It was just as exciting as we
remembered- more so, because the boys
were old enough to appreciate it and to
recognize many of the animals.
Of course, I sense a unit study in the works- but for now- it was just more
fun than a barrell of monkeys! (sorry can't help myself)
My little monkeys had a great time! Everywhere they turned there
was something new and exciting to see.
We listened to the audio CD while we drove slowly through the park.
For those who don't know- unlike a regular zoo- the animals run wild
through wide open spaces. It is so much more exciting to see them in
a more natural setting.
There aren't just a few zebras in a small zebra enclosure.
There are herds of zebras - running around kicking each other!
So much better than a regular zoo!
We actually got quite close and personal with some of them.
A bit too close with others!
It was fabulous being so close to the wildlife-
(and the animals too- lol)
We cooled off in the water play area- perfect for Florida!
The park included exotic bird species.
But we all agree- the very BEST of all - was feeding the giraffes!
Unforgettable experience!
linking up with:
Lion Country Is located just inland from the South East Coast of Florida near Palm Beach (and West Palm Beach) It opened in the 1970's and I remember going there as a child with my family - love sharing those types of things that were special to me with my own!
Click
HERE
To visit or gather more information and print your $6 off per person coupon !
If you are not afraid to "rough it" a little bit- check out their camp ground- they have cabin rentals
that include entry into the park - We haven't stayed there ourselves as we were headed over to the
coast - so I can't actually recommend it- but it could be worth a shot!
For ideas to share with your boys:

Be sure to check out: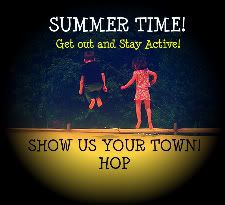 For more summer travel ideas!