Things are changing in our household.
Little at a time, I look and I see how He is molding and shaping us.
Shaping me. Shaping them.
The more He works in my heart, chipping away at the messy, broken places
the more I see them bloom!
Becoming Real BROTHERS, partners (in crime), friends.
The more I stop trying to be better, do better . . . expect better. . .
the more I see HIM step in and do the job I cannot do.
"You did not choose me, but I chose you
and appointed you that you should go and bear fruit
and that your fruit should abide,
so that whatever you ask the Father in my name,
he may give it to you.
These things I command you, so that you will love one another."
Not my will, but Yours Lord.
Last year I would have told you it wasn't possible for me
all three
of them.
I wasn't capable.
It wasn't in their best interest.
He needs more structure.
He likes pre-school. He doesn't WANT to stay home with us. . . .
"Trust in the LORD with all thine heart;
and lean not unto thine own understanding."
Proverbs 3:5
Not in my own right.
But, God is.
"In all thy ways acknowledge him,
and he shall direct thy paths."
Proverbs 3:6
He will build you a bridge.
for whatever path He wants you to take
There's been difficulty
struggle.
One with special needs.
One who's hurt and needs more than I know how to give.
One who was damaged by another. Who felt abandoned and cast aside.
But, God does not cast aside.
Nor does He abandon His own.
"Casting all your care upon Him; for He careth for you."
1Peter 5:7
I'm so grateful that He is faithful to show me the path. His path.
I'm grateful that I've stepped out in obedience knowing that it is God whom is capable.
I'm deeply grateful
I get to watch first hand as He heals the damage,
Washes away the hurt.
I get to watch you grow closer to your Creator
as you delight in learning about His creation.
November is "National Adoption Month"
Adoption is not always easy. Especially when there are extenuating circumstances,
damaged, hurt places - deeply hidden.
It can be down right difficult.
But, make NO mistake.
God's hand is on adoption!
He wants to bring HIS children to their Forever Homes
. . . with love. . . and make them whole
Tears run streaming down my face as I type to let you know. . . .
. . . and His grace is sufficient.
There are real miracles taking place
even right here in our home.
and sometimes it's the difficulties. . .
which make the
Blessings That Much Sweeter!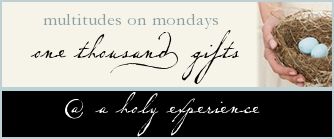 Counting down the blessings:
#32 - Tears streaming, joy deep.
#33 - Listening to you sing in the next room, as I count
#34 - Time together every day exploring creation
#35 - Knowing it's not my will, but His
#36 - Messy school table with glue, paper, and paint
#37 - Dirty hand prints on the walls
#38 - Learning to walk in joy
#39 - Miracles. Real miracles in the details
#40 - Painted skies full of promise and love and healing
#41 - Campfires and hearts glowing happy
Read more about "National Adoption Month" and Our Adoption Story here
*still crying . . . happy . . . sharing!
#3 in 30 Goals are going well -
My health
: I've been drinking water according to my goal and whether it's the water or not,
I don't know- but . . . I've had less pain over the past couple of weeks in general. I don't care
if it's the prayers, the weather, or the water. . . I'll take it! My healing from RA is on it's way!
Bible reading daily:
I can say with confidence, this is making a difference in my life. I've always
done some reading, I've always had continual "relationship" with God, but this is THE THING
that's keeping me on track with everything else.
Blog organization
: progress, definitely some progress- plenty more room for improvement, but
I'm just so thrilled with what God is doing in my heart with sweet friends and contacts through
the blog and the writing process, that I just have to go with Happy with the Progress!
*
you may gather from the Blessings article that God has been busy at work
in our home and on me, so my "goals" for this month have been a bit "tweaked"
Growth and healing in our hearts, seeing His goals come to fruition
(or at the very least- be obviously on track)
and using it all to reach others with a heart for children, homeschool, or who need to be
encouraged. . . well, it's good. . . really good.
Linking up with :