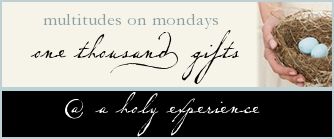 It's been a "trying" past week or so - We have most definitely been
under attack.
I'm not only speaking in spiritual metaphor- we have, literally been attacked by
someone
whom we trusted
- someone our family reached out to
with love
- someone
we made
regular sacrifices
for.
Someone we loved and supported.
It's been difficult. I've
prayed a lot,
and you know what?
God showed up.
He used some
of you
even to
show me His love
- you may not even be aware of it.
You may not know that the kind comment you left was read
just after the pain came
.
You may not even know that the funny tweet you sent
lifted my spirits
at precisely the
right time- or that in a
time of crisis
, the email, note, phone call, comment you left was
God's way of showing me that
His love is all around.
God showed up
this week right when
I needed Him
- and He is reaching me-reaching
others
through you
when you let Him.
Thank you
- for prayers,
friendship
, laughter, tears. Thank you for
encouragement,
faith,
a sweet spirit, and a great sense of humor.
This past week I've been
extremely grateful
for some very
special sisters
in Christ who will pray
even when they don't know why.
Prayer warrior
s who will hit their knees for another in need.
It's in the trials that we see the grace.
Without the troubles - we don't notice the contrast - it's just not as clear.
This past week -
God's grace
for me
came through you
. Thank you! Let's keep spreading
His love- uplifting- encouraging- wonderful GRACE!
I'm all wrapped up in it
-
#24 - reflections in the water
#25- colors of nature
#26- boys who wrestle and chase and spit and jump
#27- the gentle breeze bringing cooler weather to a hot Florida climate
#28- outdoor movies and special friends
#29- food that's cooked outside and meant to be shared
#30- sweet friends who pray & encourage during times of pain
#31- the trials which bring the Grace!
also linking with
Sweet Shot Tuesday
- because I love the above picture -
and
this one
that make me think of
God
's
love
,
His
peace
,
His
grace
:

The thing that is Fabulous about this photo: it was taken a couple of months ago at
Warm Mineral Springs - Where my Walker (the one in the pic by the lake)
accepted Christ as his Savior and became a "new creature" like this butterfly he pointed out to me!
and this flower which was also there in the park the day my baby was re-born:
Thank you- Darcy from My3Boybarians
John 1: 14
"And the Word became flesh and dwelt among us, and we have seen his glory,
glory as of the only Son from the Father, full of grace and truth."
Have a Beautiful Week!
If you have a chance - I'd LOVE it if you would consider hopping over to the
HSBA to cast a vote or two my direction - It's the 2011 Homeschool Blog Awards
I'm thrilled and honored to have been nominated in two different categories!
"Best Field Trip/Nature Blog" and "Best Photos"
there are some wonderful Homeschool mamas out there!