Some of you know that I have suffered from RA (Rheumatoid Arthritis) for the past ten years. You know that I am waiting on my healing,
believing
that God want's me whole and well,
able
to do what I need to for my family,
to serve Him
,
to be
my best
.
I try to
give God the glory
. I try to fight pain and allow Him to use me, even if I'm stuck in bed.
I try not to complain.
I try. And I fail.
I fall miserably short
of what He expects of me. I get short with my children.
I complain
far too often about not feeling well. (
As if
saying it out loud actually makes it any better)
"
God appoints people who do disappoint – to point to a God who never disappoints.
"
quote by Ann Voscamp
I've had some
awesome encouragement
from many of you. You can't know
how much
of a blessing your kind words mean to me. You can't know how much
hope and joy they give me
or how they
confirm
to me what God is up to in my life.
It means more than you can possibly know
.
Once in awhile, I come across someone who is
walking on faith
- so much so - that I become painfully aware of the places
in my life
that
need improving
. It becomes clear to me that I've just scratched the surface of what it means to
fully trust Him.
You may have heard of - as there have been so many touched by -
Who's "one little word for 2011 was- PRAISE"
"I'm more likely to tell you how I am despite my disease, not because of it.
I am more than that. I'm more than a sick person."
Sara's case was the first I'd read about Ankylosing Spondylitis
friend Anita Mellott - you may have already been introduced (bloggily speaking)
because of her fabulous homeschool book -
(you can purchase your own by clicking the picture)
Sadly, Anita has now come forward with the information that she too, has been diagnosed with AS.
On the subject of Thankfulness and Gratitude,
This incredible woman speaks to my heart when she says -
"
Though my sacrifice of thanksgiving doesn't alter my circumstances, it sparks within me the ability to see God's hand in the valley, helping me embrace each day and treasure what I do have."
*Please take a moment to click the link below and read Anita's article for yourself-
You'll be glad you did- I promise!
An excerpt-
"Choose thankfulness." The two words that I had sensed should be my motto through this journey of pain and illness lodged themselves in my heart. I shook my head. How do I choose thankfulness when I could hardly see or walk? Several minutes later when I couldn't shake those two words, I sighed and stood up. With one hand holding my back and the other gripping the dresser and then the wall for support, I hobbled toward the staircase. "Lord, thank you for my family…and for all who lift me up in prayer. Thanks for the many friends who stand ready to help at a moment's notice. Thank you for good doctors and insurance… And thank you that despite the pain I can
still
get around."
You see? Boy am I am wimp!!! What a wonderful testimony of grace, love and gratitude!
. . . . . I humbled as I count to 1000 gifts and beyond . . . .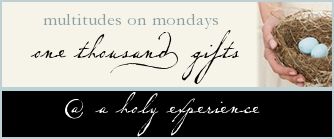 #69 for medicine that helps me walk and get around
#70 for access to care when it's needed
#71 a bathtub full of hot water and jets that wash away pain
#72 little boys who care and love with soft touches and tender hearts
#73 a husband who never falters and is always on the ready to help, who doesn't
complain when I need rest, and jumps right in even after a full day of work
#74 a friend who brings special healing oil and prayers
#75 friends who lift me up in prayer on a regular basis and give support and love
#76 fresh air and sunshine that lifts my spirits and helps me remember to be grateful
#77 that I'm surrounded by loved ones
#78 for a healing to come - I believe- I believe!
#79 For examples like Anita who testify to His faithfulness and show me how to walk - how to live
#80 constant reminders from up above that I am loved and I cared for -
#81 I'm
a child
of the living King -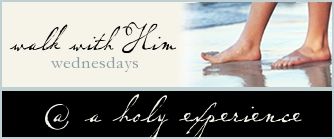 And so, I walk on -
in faith
knowing that He cares for the tiny sparrow
How much more then must He care for me, His daughter?
How much more does He care for you, my friend?
"Why should I feel discouraged, why should the shadows come,
Why should my heart be lonely, and long for heaven and home,
When Jesus is my portion? My constant friend is He:
His eye is on the sparrow, and I know He watches me;
His eye is on the sparrow, and I know He watches me.
I sing because I'm happy,
I sing because I'm free,
For His eye is on the sparrow,
And I know He watches over me."
*Please join me in praying for Anita
I deeply desire to walk on faith -
to be grateful for each and every moment - each and every day -
I want to work towards living a life of true gratitude!
Thank you Lord for providing such inspiring examples in women like Sara, and Anita
for touching
my heart and
my life by their faith & gratitude.
It is truly humbling!