This is the challenge for the 52 Photos Project this week -
My interpretation is about my process . . . . . . .
It's an amazing thing when you see the mighty hand of God move
This past week has been an especially, um, stressful one for me. When things are
looking dark and dreary - there is only one way for me to change my perspective. . . . .
My ray of light comes from laying it all at the feet of the One who gave His ALL for me.
When there are situations I cannot change, life's difficulties that won't seem to budge,
challenges which appear to be insurmountable . . . . .
When the only thing I can change is my perspective -
The way I manage that is by looking up and laying it all down!
I begin with prayer, thanking God that my children are healthy, and that my husband is kind.
I pray and breathe in and out, releasing some of the stress with each breath, each prayer.
When at all possible, I get out for a walk to appreciate the natural beauty of God's creation.
I slow down to examine some of the smaller details in the beauty around me.
I open God's Word and soak it up!
I intentionally look for things that make me happy. I get support by asking a friend or two to pray
along with me. There is power in prayer.
do not be anxious about anything, but in everything by prayer and supplication
with thanksgiving let your requests be made known to God.
And the peace of God, which surpasses all understanding, will guard your hearts
and your minds
in Christ Jesus
.
Instead of allowing stress to rush me, I slow to a relaxed pace and seek peace.
I stop to thank God for the beauty in the clouds, a rainbow in the sky.
I look and notice baby birds in a nest - and I know . . . . . .
Matthew 6:26
Look at the birds of the air; they do not sow or reap or store away in barns,
and yet your heavenly Father feeds them. Are you not much more valuable than they?
So, again, I stop and give thanks.
It helps to do something for someone else.
If I can't solve my own problem, I can make soup and muffins for a sick friend or neighbor.
Sharing God's love is good for the soul!!!
I can do something I enjoy - like crafting . . . . . .
(praying and crafting go well together)
I take the time to pray for others - to remember that there are brothers and sisters who
need God's love - need His mighty hand on their life too.
I remember to keep my worries where they belong - at the feet of the King.
I revel in His majesty - at the Works of His hand . . . . . .
and I give thanks!
Then, I hardly need be surprised at all, when by the end of the week . . . . . .
my emergencies are solved - miraculously, one by one, each trouble
- taken care of because He loves me!
This past week I experienced real miracles as He directly answered prayers and solved
problems beyond my control. He moved His mighty hand on our behalf
and I am so very grateful.
My so called problems are nothing difficult for the Creator of the Universe-
the Maker of Heaven and Earth
Psalm 61: 4
I will abide in your tabernacle forever: I will trust in the shelter of your wings. Selah.
I am immensely grateful
click on the last picture to hear a song of thanks!
Linking up with: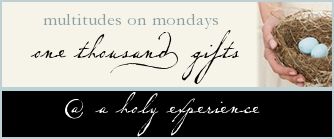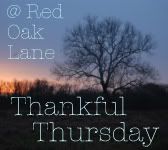 #1000 Gifts:
141. afternoon walks in the fresh air
142. breeze across the water
143. rays of light through fruit trees
144. vibrant children
145. friends who will pray, love, and support
146. beautiful details of my pretty shells
147. colors in the sky
148. opportunities to see miracles, even when they come disguised as problems
149. shelter of His wings
1. Walk with the Lord:
I'm walking :) I've been praying for the women in my
study has kicked into full gear as well. Each of these things are "Enhancing" (my word for 2012)
my walk with Christ in my personal quiet time and with others. I also teach Children's Church
I'm staying in the Word a good bit. :) I'm in awe of the things God is doing in our life.
2. Health improvement: I've been doing some walk/hiking and drinking my water- well,
more water than usual anyways and that's an accomplishment for me! I've been using my
If you are suffering from any health issues, or just want to improve your overall health - I
encourage you to get in touch with this sweet woman and tell her about it. She has prayed
with me, helped me, guided and directed me, and continues to encourage me and pray for
my complete healing from RA. She's a wise woman, that one. She loves people with God's love!
has been kind enough to help me with edits on my new eBook Perfectly Perfect which I've written
for the new site for young women
DIVAgirls -
She's a sweet one that Gidget, and I love the new
site by Katie to encourage girls to respect themselves. I'm happy to contribute to such a worthy cause!
I've also been narrowing down the Link-Ups to participate in weekly - Organizing and creating a new
binder (I heart binders) to keep up with notes and ideas for writing, and preparing a few new