Ephesians 4: 17-32
32 "Be ye kind to one another, tenderhearted, forgiving
one another, even as God in Christ forgave you."
We've all heard the old adage "If you can't say something nice, don't say anything at all". Your mother probably taught it to you, as mine did teach it to me - and you have probably repeated it to your children a time or two, as I have mine. But, it's more than just one of those things mother's say. It's a biblical - scriptural command - a message from God almighty.
It's also a bit easier said than done.
Verse 29 says, "Let no corrupt word proceed out of your mouth, but what is good for necessary edification, that it may impart grace to the hearers."
*Edification- the act of edifying - improvement - enlightenment
"building up of the soul"
God doesn't want me saying anything at all, unless it contributes to the "building up of the soul" for whomever I'm speaking to!
I wonder how many times a day I'm actually messing this up. Like, when my children frustrate me because they've been biting each others heads off. Not that my little darlings would ever fight with each other or say unkind things to each other - packs of brothers would NEVER behave that way - not my darlings.
Seriously, I think I'm probably in good company when I say - that's really when I'm at my worst. When the boys have been bickering back and forth and I'm trying to get something important taken care of - that's the time they'll go in for the kill - and they go for the jugular. I correct - I amend - I redirect - I cajole - and then suddenly my head spins around about three times and some vile sounding threat escapes my lips. I'm not even going to get into details here. Suffice it to say - if Jesus were standing in my living room - it would be a mite different. It wouldn't happen at all. I'd remain patient with the little darlings under all circumstances.
Ephesians 4: 17 - 32 Speaks of putting away the old man - our sin nature - once we've accepted Christ - we are cleansed - holy - pure - a new creature and free to live like it. We are no longer bound by the old nature.
Verse 23 is one that I love. "Be renewed in the Spirit of your mind"
There is only one way for me to "Be renewed in the Spirit of My mind" And that is for me to begin each and every day filling it with the Word of God. It's my only hope.
Lamentations 3: 22- 24
"The unfailing Love of the Lord never ends! By His mercies we have been kept from complete destruction. Great is His faithfulness; His mercies begin fresh each day. I say to myself 'The Lord is my inheritance, therefore I will hope in Him."
Therefore I will hope in Him!
No matter how hard I try, I am not capable of being this joyful, loving person God wants me to be 24/7 - but He is capable - and my hope is in Him. Through Him - His mercy - His grace - His love I can be the woman I am called to be.
I am washed clean - pure and holy - and free to live it daily!
I am a new creature!
A very special butterfly picture - this new creature captured on film the day my middle boy
became a new creature in Christ - We love this butterfly and what it represents to our family!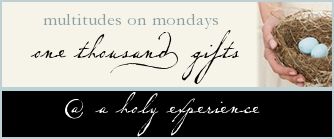 And I count to #1000 Gifts and beyond:
181. Unending Mercy and Grace
182. Newness
183. Edification of the Soul
184. Opportunity to build up and not tear down
185. Freedom from sin - to live as a new creature
186. The women in my life God has carefully placed there for edification of my spirit
187. Paul's words in Ephesians - so many good words to live by
188. Sweet little boys who are learning to speak kindly one day at a time
189. A very special butterfly
These are the things I seek to teach my children - "Love one another" - Our memory verse for this week:
Ephesians 4: 32
"Be ye kind one to another, tenderhearted, forgiving one another,
even as God in Christ forgave you."