You may know that I am a

Mom of Master Books

and provide you with reviews regularly about the wonderful resources they offer. What you may not be aware of is that I am beginning a new adventure with Master Books and will be contributing monthly on a brand new project called Wildlife Wednesday

on Creation Conversations.
If you haven't yet heard about Creation Conversations - let me fill you in: it's a group site where authors, bloggers, teachers, and homeschool families come together to share resources and encouragement. Have I mentioned the free stuff? Free to join and free resources regularly.
Each Wednesday you can expect a post by me or Kathy from Kathy's Cluttered Mind, also we will be accepting guest posts by other bloggers and even authors of Master Books. Please contact me if you are interested in contributing a guest post.
Posts will included valuable information for you on ways to explore creation with your family. Learn more about God's wonderful world we live in and the plants and animals He created.
There will be FREE resources, giveaways and more going on each week - so you don't wanna' miss it! We will be putting together free unit studies for your homeschool and more!
So what do you need to do and how can you help?
Sign up at

Creation Conversations

. And then be sure to join the

Wildlife Wednesday Group

.

Keep an eye out for posts starting November 7th. Wildlife Wednesday posts will be posted each Wednesday on the main

Creation Conversations Blog Page

. Monthly giveaways, FREE resources, discussions etc will be on the Wildlife Wednesday Group.

Help us spread the word by posting the badge (found below) on your blog, website or Facebook page. And as a thank you for helping us spread the word you will be

eligible

to enter the awesome

November giveaway

.
Grab a Wildlife Wednesday badge for your blog/website:
Copy and paste the graphic below -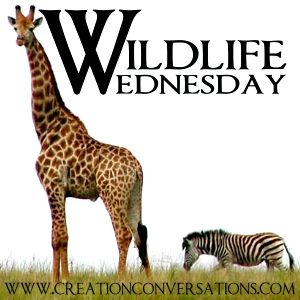 Use permalink: http://www.creationconversations.com/group/wildlife-wednesdays
Don't forget to enter the
GIVEAWAY
on the Wildlife Wednesdays Group page
(it starts today)
As a way of kick starting this party - we are beginning an ongoing link up where you will be able to link your creation exploration posts to share with others. It will become another avenue full of resources and ideas to enrich your homeschool - Simply Grab the Wildlife Wednesday badge
by copying/pasteing - be use to grab the permalink:
http://www.creationconversations.com/group/wildlife-wednesdays
(text links are fine)
and link up below. Feel free to Pin entries so you can easily locate your favorite ideas later
*
Disclaimer - As part of Wildlife Wednesdays I may receive free books in return for mentions in posts and reviews. Please note that prices indicated in the post are subject to change. I was not compensated for my review and all opinions are my own! Many of the links found on my side bars and in my blog posts are affiliate links. Thanking you in advance for your support
.