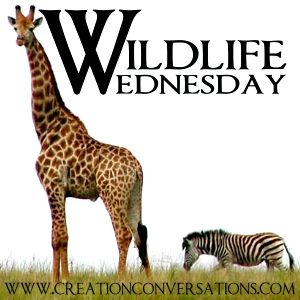 We are celebrating wildlife with Master Books and Creation Conversations. If you haven't heard of Creation Conversations - well, I'd hate to see you miss out on such a great resource. If you are interested in, or teaching God's creation vs. the theory of evolution to your kids - even if you are just curious about the differences and the scientific evidence which leads us to choose creation - it's a wonderful resource.
You can read my top 10 reasons why we choose creation here.
Each Wednesday - I'm teaming up with MB/CC and my good friend Kathy Balman from Kathy's Cluttered Mind to bring you fun facts - animal profiles and information interviews with authors and scientists - and a closer look at the fingerprints of God on His creation.
I hope you are as excited about this as I am. It's a great way to share information to enhance our homeschool studies, to encourage each other in our teaching, and to share the Word through science. Here's a peek at one of our recent adventures:
Over Thanksgiving weekend my father (Grandad) found a praying mantis outside in the yard. He quickly went to work with the boys getting their aquarium together to house their new friend.


Our 8 year old announced that it was his belief that this mantis was a pregnant female.
2 days later - she had prepared an egg sack and began laying her eggs. We've learned a lot about these interesting creatures. Check out the free links and information and be sure to sign up for the giveaway on Wildlife Wednesdays at Creation Conversations.
Add your Wildlife and nature posts to our ongoing link up below:
or use a text link for Wildlife Wednesday with a permalink: