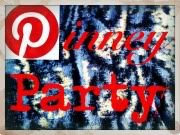 I was so excited to find this little "Pinney Party" from the
awesome blog of
Everyday Dreamer
cause -
like many of you- I have fallen head over heals for Pinterest! I just love the idea for this
fun link up- The Theme for this week is
Smile
!
This is my interpretation:
W gettin down - he was suppsed to be asleep!
We found him in his room dressed and dancing!
Oh to be a child again :)
pinned to my Random Adoration board on Pinterest
originally from my flickr account
same for- the following:
g-g-get g-get get-it boy!
Dance like nobody's watching!
Kid's got some serious moves. . .
and he makes me smile!
(and laugh out loud)
*All of my children make me smile and I love them all dearly- But this little guy
keeps us all in stitches on a regular basis- I couldn't help but to think of him
with a theme called "smile"
*btw- I do pin things
other
than pictures of my own children
- but - nothing makes me
smile
more!