Once upon a time, there was a little girl who loved to travel with her family. Her favorite destination was an island in Southwest Florida. Here she ran and played, sang songs as she walked on the beach, and told God that her hearts desire would be to call this enchanting place home.
It was on this island where she discovered precious gifts from the sea. It was the place where she learned to look closely at God's creation and discover it's mysteries. She fell in love with the creatures of the sea and the beauty all around.
She learned to appreciate the gracefulness of the dolphin, and the clumsiness of the baby sea turtle. She admired the creatures, great and small as she sang to the One who had made them all.
These gifts from the sea, be they shelled or have wings stole her heart as she knew they'd been created to do. They always delighted, and she never grew tired of watching closely and learning.
From the Great Blue Heron and the American Bald Eagle - to the plain Brown Pelican, Sea Gull, and even the smaller Ruddy Turnstone she was captivated by the wildlife of the island she loved.
Each of the creatures held their own majesty. The obvious majesty of the Bald Eagle, and the understated elegance as that of the smallest sea shells she collected - all pointed her to towards their Maker.
Living creatures full of beauty - exquisite detail held distinction from another. Each one designed by the Master Himself with unique, awe-inspiring qualities.
Each one yet another remarkable gift from the sea.
This was the place where she began her fervent prayer. It was as innocent as it was sincere, and she boldly made her request known to God. As she ran across the sand, she asked Him for her a family of her own, with whom she could one day share the love of this special place. She delighted in His creation, and opened her heart to the Creator.
Many years later, she stands on the beach with the family she loves, as they explore together
the wonders of God's creation and the precious gifts from the sea.
Psalm 37:4
"Delight thyself also in the Lord; and He shall give you the desires of your heart."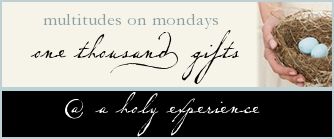 Now I am grown and although I am grateful He has blessed me with the desires of my heart -
I've experienced the true joy which comes from aligning my heart with His will for my life;
and for that I am forever grateful.
In teaching my children I must remember:
Mark 10: 14b
"Permit the little children to come unto me; do not hinder them;
for the kingdom of God belongs to such as these."
Counting Gifts to #1000 and beyond
170. my daily gifts from the sea
171. dreams realized
172. earnest prayers of a child
173. sharing with my own children
174. hearing their prayers
175. all the wonderful birds in our area
176. simple pleasures of sand between the toes
177. singing on the beach
178. the grace of dolphins
179. wonders that never cease
180. Remembering Child-like Faith