Have you heard of the Compassion bloggers? If you read Ann Voskamp's -
A holy experience
- you have seen the pictures and heartfelt words of love for these children of Compassion.
The Compassion blogger team has returned from Nicaragua this month & just in case you haven't yet read about their wonderful journey or looked at their photo's - photo's that often say much more than any blog post could- I encourage you to go ahead and take a look.
Grab a cup of coffee, and sit back & read through these posts. Open your heart to the truth shared here & allow God to speak into your life.
We are here to serve. We all have a job to do. God has given each a gift to share. It may be a blog post, or a book. It could be a song, or a sponsorship. It may be that God has given you a special heart for those in your community - wherever He leads - just go!
Their trip to Nicaragua may be over - but the stories remain . . .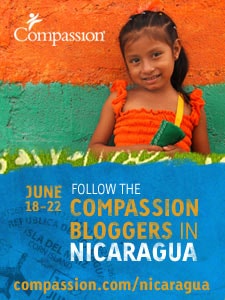 Read the highlights from the June trip here
See the other posts from Nicaragua 2013 here
Read about blogger
Christy Jordan Southern Plate - meeting the child she sponsors - here.
And here where "things are changing"
"families are being restored" and "children are dreaming of becoming someone"
Share Compassion with your children & enjoy
free homeschool curriculum materials - here