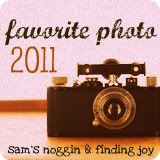 Rounding up a few of my favorite pictures from 2011 and reminiscing over the moments represented.
That is the key for me - the photos are about slices of our life - looking through the lens and stopping
time
. . . . just for a moment!
These may not be the BEST shots, but they are
my shots of our special moments:
This year, we were fortunate enough to go and bear witness of the
last space shuttle.
It was a
bitter-sweet experience for us, as both my husband and myself grew up in Orlando and have such
fond memories of the space program. We were grateful to share those memories with our children.
This photo represents more than that to me though, it represents the
brotherly love
shared as my
oldest takes a moment (captured in time) to show his little brother how to use the binoculars to spot
the launch pad.
Next, well the quality isn't great- not the best camera ever. We handed it to some strangers and I took their
picture and they took ours. Thank you! Who-ever you are! This is the only
family photo for 2011
!!!
We were on an impromptu little get-a-way to the east coast in Palm Beach.
It was a wonderful time together. I love the memory.
And then - we came across this beautiful creature on our way to church. He was perched in a tree right
down the street from our house. He's actually landed in our yard with a fish in his mouth after grabbing it
out of the waterway behind the house - but I couldn't get the camera fast enough to capture that one! I
love the majesty and posture for the
American Bald Eagle!
God-bumps:
This picture is one of my very favorites ever because it represents something more precious than
anything else - the day my Walker
gave his heart and life to Jesus.
We were spending the day at
Warm Mineral Springs together (where Ponce de Leon thought he'd found the fountain of youth) for
a homeschool field trip in the great outdoors. We prayed together while sitting in the water and snapped
a picture of the butterfly as we discussed that he too was a
"new creature"!
My son also took a
handful of moss and let it go over the small waterfall and explained that it represented his sins being
"washed away"
! Precious moments.

Ok, now these are not my photos, but my sons photos, but they are so special because
he got to go on an adventure of a lifetime this year - My parents took him
(on my dream trip-just sayin) to Alaska! There are too many special ones to choose but
these are a few of my favorite-
My 10 year old adventurer!
Some of
my favorite people
in the world- My first born with my parents!
Love the
silhouette
shot here and the fact that our homeschool friends came to visit!
It was an awesome visit & we got to share our love of
kayaking
, beach, and shells along with
other friends who love Jesus :)
Another shot of Parker in
Alaska
, love this one-
It captures his
sincerity
along with the beauty of the moment
My Spencer on his 6th birthday - He LOVES to fish like no other! He threw his new cast net
for 12 hours straight - I kid you NOT!
And yes, his shirt is on backwards - yet another aspect of
his cute personality
captured in living color.
God is healing this baby of mine!
There is something special for me in this one too -
I ran here at exactly his age and asked God to give me my own family to share my special beach with
I
love the action
captured here as well - and the fact that it is
SO him
to
chase the birds, Walker cannot help himself!
This one captures my boys (all four) on a river adventure
We adore our outdoor adventures - exploring God's creation!
I think this one is cool-
and this is little brother "pretending" to be cool as well
(he's a
funny kid)
That's right- "skatin" with No board!
I absolutely must include a sunset picture - as it's an important part of our life here as well
It's taken from one of my
all time favorite places
- where we go to escape the rest of the world
and just be together as a family!
God-bumps:
It
restores my soul
to sit in front of this view and pray as I watch my family play
around the island God gave me (ok, it's not mine- um, but it is)
because I asked Him for it when I was seven!
Every time I drove over this bridge with my family as a little girl (headed to our vacation spot)
the special salt smell would fill the air and a unique feeling would come over me
I knew I was home
now I'm here with my own husband and children
God is good!
What a gift He has given me
So, my number one pick for 2011 represents so much that is special to me:
- quiet time with my Creator
- special time with my family
- our adventures
- exploring God's creation and soaking up it's beauty
-watching dolphins play
- seeing beautiful birds soar high
- listening to my children laugh
- watching as my good husband gently instructs his boys in the ways of nature
- gratitude for the gifts He has given me
- setting aside time to reflect on all of the above
Thank you Lord with all of my heart!
God Bless You in 2012
Do you have special photos from 2011 to share?
#92 - #102 counting all the way to #1000 Gifts