There is
so much going on
right now, city sidewalks, busy sidewalks and all that. . . .
The children, the decorating, the shopping and planning, never mind the cleaning, cooking,
working, schooling, bill paying . . . . .
It's so important that we
*S* L*O*W*
down - even if it doesn't seem possible - to take it
all in and to remember what is important - to think about the year past, things accomplished,
things we want to improve. We need to look to the future, to make plans, set goals. We need to
BE In The Moment
with our families. . . . . so much to do, so many important things to check
off our list-
it's easy to forget.
I had a fresh reminder recently.
One of the things I have "in the works" is contributing to a new site that has recently
launched-
DIVA Girls
- It's different for me, as I am always surrounded by
boys
- and used to
writing to Moms. This is a site
for girls ages tween to young adult
. In brainstorming as to what I
want to write about - I've been amazed to see where the reflection has taken me.
One of the
most important
moments of my life was brought back from the recesses of my mind-
Once upon a time, when I was a girl.-a long long time ago- :) I was fourteen years old - to be exact. I had a close friend named Jeffrey. He was my neighbor.
Jeffrey was cool
. He had a lot of friends, and everyone loved being around him.
I was, not so "cool". I went to Christian school, and I dressed differently and
believed differently
than
most of the other kids who ran around our neighborhood. But, Jeffrey didn't seem to care about that.
He thought I was pretty cool.
I became a Christian at an early age. I got fired up- excited about the truth in my life - and commenced
to telling
anyone and everyone
who would listen about what Jesus could do for them. I NEVER
hesitated, or worried about what they would think of me. It wasn't about me, it was about making
sure that they knew about the love of Christ. I'd
never
considered whether or not it was "cool".
Until Jeffrey.
For the
first
time in my life, I was concerned about what someone would think. I
didn't want to tell
Jeffrey about my Jesus. I wanted him to know, I just didn't want to
be the one
to tell him. He thought
I was "cool" - and I was enjoying that idea for the first time.
God had
other
plans. He began to pull at
my heart
. I stomped my foot in disgust and frustration.
Really? Can't I just enjoy this for what it is without having to drag "Jesus" into it?
For the
first time
in my life, I did
not
want to share Christ.
The Lord continued to knock, knock, knock at the door of my heart. He continued until I threw my
hands up. I literally looked up and said,
"FINE!"
(stomp stomp) "
YOU
bring up the subject, and I'll
obey and tell Jeffrey about you!!!" (insert more stomping)
The
next day
. Yes. Out of
NO-Where
, Jeffrey mentioned God and asked me what I thought.
Seriously?
Again, I looked up.
"Thanks a lot God",
and I began to share His love with my "cool" friend.
I told him that we are
all sinner
s. I told him that
Jesus died
to pay the price for those sins. I told him
about
grace
, and what it means to
accept God's love and forgiveness
, That it's a
free gift
-
like with any gift, you
don't earn it
- you just
accept it
-from the heart. I told him what it is to walk
with the Lord.
We cried
together
. Jeffrey got down on his knees
and accepted Jesus
as his Lord and Savior.We
prayed together. We spent days and days talking about his
"new life"
in Christ - brothers and sisters- children of the King.
It was "cool".
Flash forward six short months - I moved away with my family. After the first year of being gone- I
returned for Spring break to visit my friends in Florida. One of
the first
places I went, was to see
Jeffrey. I
ran to the door
and was so excited to see him.
His mother answered - and her face fell. She started
to cry
and told me that they had tried and
tried to find me but hadn't been able to.
Jeffrey had been struck by lightening.
My friend
Jeffrey was dead.
The FIRST thing that went through my mind - and the thing that STILL today makes me stop in
my tracks-
I almost didn't tell him!
I was able to tell his mother about my experience with Jeffrey
. I told her Jeffrey was with Jesus.
She wasn't a Christian, but, she was relieved to hear that her
only son
had spent time on his knees
giving his heart
to the Lord, accepting God's forgiveness. She wasn't ready to pray with me, but she
held on tightly to the knowledge that
I believe
WHOLE heartedly that I will see my friend again! I pray
God was able to use it to reach her.
Though I
ALMOST
didn't tell Jeffrey about Christ- Thank God for His faithfulness - He kept
after me until I obeyed Him. You see,
He knew
Jeffrey's time was close, and
so did
the enemy.
You getting the picture? We
must
keep our eyes on Jesus. We
must
listen carefully to His urging.
We cannot do that if we are all caught up in too much "busy".
At Christmas and
throughout the year
- we need to spend time on our knees - and we need to pay
attention to the urging from the Lord -
People need
the love of Christ - God needs us to
show them!
I don't believe you will
ever regret
time spent sharing God's love with others -
but I know first hand, that you will regret it if you
miss
sharing Him when you are supposed to.
Are you slowing down this busy season to listen to Him? Are you sharing Jesus with your family
and others around you?
He really is the greatest gift of all!
And I count my gifts - to 1000 Gifts and beyond. . . . .
#82 Thanking Him for the memory of Jeffrey
#83 childhood friends
#84 important life lessons
#85 His faithfulness
#86 opportunity to teach my children truth daily
#87 His grace and forgiveness - even though I don't deserve it
#88 smells of Christmas
#89 doors slamming as healthy children rush out
#90 reminding me to *s*l*o*w*
#91 the one who paid it all
#92 the King who chose a manger for his bed - and the cross instead of a throne
This week:
We have slowed down and are not trying to do it all -
we are enjoying each other and still fitting in some of the wonderful
Advent activities from - and we are LOVING reading the Scriptures together
and discussing the details of the true Christmas story-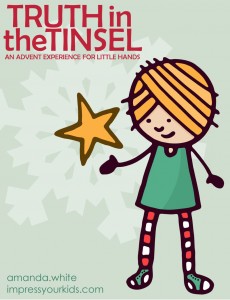 I am thrilled to see my boys soaking up the real "spirit of Christmas" and wanting to do for
those in need! We are learning about children and families from other countries and the boys
are giving up some of their Christmas to give to
Compassion
-
What we are learning:
I made this button-
To share the
FREE Global Curriculum from Compassion!
Teach your children to think about others and to care for those across the globe!
Did you know you can purchase a chicken for a family in need - for just $16 ?
There are other life altering gifts of Compassion for you and your family to consider giving this year -
My children love knowing that even though they are small - they
can
make a difference! I love
teaching them to think outside themselves and showing them the world!
Link is here
if you'd like
to take a look at the
gift catalog
- ($10 for seeds to grow a family garden!)
God Bless You - Every One!
-Merry Christmas-
linking: