Do your children ever teach you a lesson? Do they come up with something you know in your
heart is something you SHOULD have been all over in the first place?
Yeah, me too!
It happened (again) tonight, and I figured I should share it with you.
So - You know how people get grumpy sometimes around the holidays?
They get rushed, they can be short, and even sometimes flat out rude. There are times,
I think especially this time of year- when you are out running errands- minding your own
business and taking care of life's little details - you can run into
folks who are down right ornery. It can leave a bad taste in your mouth.
It can even mess with your Christmas mo-jo!
Know what I mean?
Well - tonight the boys and I ran to Sam's Club
(one of my favorite places)
to pick up things we need. I was feeling grateful that we were able to get them.
And then we arrived at the exit door.
The one where the guard employee stands to check you out and make sure
your cart matches your receipt.
I don't know about everywhere else but- At OUR Sam's Club -
they usually draw a smiley face on the receipt if the kids are there.
For some reason - known only to them - this has become a BIG DEAL to my boys.
They discuss who's turn it is to hand over the receipt - and sometimes even ask
for an extra smiley face for their brother who had been the odd man out that particular time.
(I think it's sweet and thoughtful)
I have one child who is more "shy" (at first) than the others who are NOT at all.
This son of mine has had a difficult time speaking to adults unless he is very very comfortable with them.
You know the kid who hides behind his mother's leg? That's him!
Well, tonight (after spending too much money at Sam's)
this shy boy went excitedly up to the attendant at the door and proudly presented the receipt-
upon doing so - he had the nerve to ask the man for a smiley face!
-speaking directly to him was such a BIG DEAL that I almost didn't realize what the man said.
And I quote-
"Don't bug me about that!"
He wasn't joking. He was not smiling. He was dead serious as he towered over my first grader!
Several things went through my head.
What came out of my mouth was "Merry Christmas"!
(maybe a tad sarcastic)
Then the man said (to my son)
"I always do the smiley face- but not if you bug me about it kid"
Then I said, "He's just a child- one young enough to get excited over a smiley face"
And I left.
As we were walking out - (and I'm getting madder and madder by the second.)
THE NERVE of that RUDE HORRIBLE MEAN MAN to speak to my baby like that!!!
I'm thinking "Sam wouldn't like that at ALL"
"I just spent good money in there- again"
"I bet his manager would have something to say about his behavior!"
and maybe even
"People like that shouldn't be allowed to work with the general public"
"Child Hater"
Just about the time I was good and riled up - I asked my son if the man had hurt his feelings by being
grumpy
Guess what he said?!
"No ma'am"
" I think the man was really tired, because he was kind of old and he had to stand there all day"
I replied with an "Oh"
He added, "I think they should get him a chair, then he'd be more comfortable while he has to
work hard checking all those receipts"
We bowed our heads and prayed for the man at the door.
We prayed that he would feel strong and well. We prayed that he would feel happy
and that the love of Christ would surround him and touch his heart and his life.
We thanked God for being able to shop at all, and I thanked Him profusely for working
in the hearts of my children then I thanked Him for the lessons He
teaches me on a regular basis. . . . . . . .
"Out of the mouths of my babes"
I learn about TRUE Christmas Spirit!
In our homeschool - We've been studying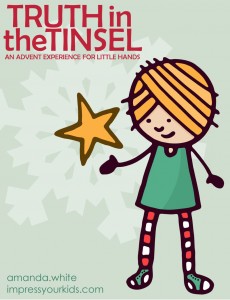 Counting down to Christmas - Advent - is wonderful to do with your children!
But, it's not the cute crafts that we like so much
It's not the fact that it can be enjoyed by various ages
or even the fact that the simple to do crafts are made from things you mostly already have on hand
or that they all relate to Christmas and tell the Christmas story in depth.
We love that not only is it good for them to enjoy working on together
but the scripture reading that goes along with each craft and the devotions
which go along with each day are really sinking in.
They are learning more about the Savior and growing in grace and love!!!