These first two verses - had me at hello!
Ephesians 5: 1-20
. . . As dear children
This week I'll be looking to my children in order to take this message to heart.
. . . As dear children
My children come to Jesus with their whole hearts.
They bow to pray and they mean every word - their faith is complete
When they question it isn't to cast doubt - it is to fully understand
They do not question God in the way that grown ups do
Theirs is an innocent - a wondering - a wanting
to know Him better - to see Him clearly.
. . . As dear children
. . . And walk in love
I don't always "walk in love" - I try to walk in love - I desire to walk in love
Sometimes I walk in stress - and He gently reminds me - like a child - His child
to "walk in love as Christ also has loved us and given Himself for us, an offering
and a sacrifice to God for a sweet-smelling aroma."
I, all too often need the reminder.
Ephesians 4: 29
"Let no corrupt word proceed out of your mouth, but what is good
for necessary edification, that it may impart grace to the hearers"
. . . That it may impart grace to the hearers
* my prayer today is that God will supernaturally, grant me the ability to tame my
tongue
to such a degree that every word from my mouth will impart grace to the hearers!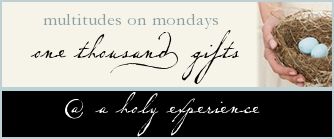 Counting to #1000 Gifts and joy pockets:
190. . . . As a child - childlike open hearts
191. miraculous provisions and a path made clear
192. opportunity to travel with my children
193. meeting sweet blog friends I already love
194. God's clear message of love - walk in love - love one another
195. childlike faith
196. seeing through the eyes of my children
197. opportunity to spend time with friends and family
198. cousin time
199. watching God move mountains when I come to Him with a road bump
I've been very busy getting ready for my road trip - making my list - checking my list
I am so looking forward to meeting some of my favorite blog sisters IRL
I'll have my children - a trapped audience - on a long car ride.
Maybe they'll be able to teach me a thing or two along the way!
I plan to use the time to review Bible verses we've learned and to listen to some
new audio books on the road. We also have a couple of favorite parks to stop and see.
and I'll be at the Apologia Live Conference the following weekend - tweeting to keep you
up to date and informed. You can follow our road trip adventure on Instagram as AdventurezInChildRearing and on Twitter as @AdventurzNchild - I'll be sure to post
some road trip "how to's" and hopefully not too many "what not to do's" with the kids!
Linking up with other bloggers: