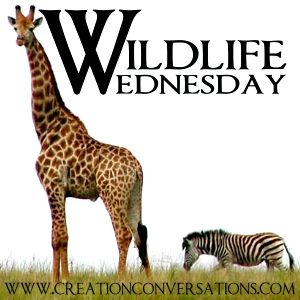 Wildlife Wednesdays is here! We are celebrating wildlife with Master Books and Creation Conversations. If you haven't heard of Creation Conversations - well, I'd hate to see you miss out on such a great resource. If you are interested in, or teaching God's creation vs. the theory of evolution to your kids - even if you are just curious about the differences and the scientific evidence which leads us to choose creation - it's a wonderful resource.
Each Wednesday - I'll be teaming up with MB/CC and my good friend Kathy Balman from Kathy's Cluttered Mind to bring you fun facts - animal profiles and information - interviews with authors and scientists - and a closer look at the fingerprints of God on His creation.
I hope you are as excited about this as I am. It's a great way to share information to enhance our homeschool studies, to encourage each other in our teaching, and to share the Word through science. Here's a peek at one of our recent adventures:
Did you know that scientists have used the design of the butterfly wing
- biomimicry - to develop technology that improves health,
advances technology, fights crime, and saves lives?
Look for that story on November 14 in my column @ Homeschool Mosaics where I write about Exploring Science - Naturally.
The resources from Master Books are incredible. It's changed our homeschool. I hope you will dive in to this project with us and enhance yours!
Did You Know?
A camel can go without water 10 times longer than a human.

A cheetah can run up to 70 miles an hour.

25,000 sharp-pointed quills cover the porcupine.

It's two feet long and weighs 132 pounds the heart of a giraffe.
Children and adults both will delight in this illustrated guide to animals of the world. Filled with spectacular photographs and "creature classifications" - it is great for any home or school library.
And God created every winged fowl after his kind: and God saw that it was good (Genesis 1:21)
Join Creation Conversations - Wildlife Wednesday - and enter to win great Master Books monthly. Learn weekly about animals you can study with your kids in your family homeschool - or just family time explorations.
Also . . . . . we have an ongoing Linky for you to add your posts about exploring God's creation. It will be a great way to share information and inspiration as well. We'll be pinning your posts and sharing them!
or use a text link for Wildlife Wednesday with a permalink: