Adventus is the Latin word for "coming" - as in the coming of the Savior.
Christmas is coming.There are many different kinds of Christmas traditions to observe. We have tweaked and changed ours over the years to fit our convictions and to follow after what God wants from our family.
We use it as a time for family, to come together and enjoy each other. We remember past Christmas's and tell stories from when we were children. We sing songs, bake cookies, and play games. The children help fill stockings for those in need. We look for ways to serve at church or visit an elderly friend. We love to make gifts for people we care about.
We acknowledge that the times are off, that the enemy has had a hand in trying to steal God's glory, even in the birth of our Savior, that holidays all have roots in pagan religions and we press on - looking for ways to give God the glory and keep our focus on Him.
We don't want to get hung up on whether someone should play Santa Claus or not. That would be their business. We don't spend time deciding who is right or wrong - that would be God's business. We are simply seeking what God wants from us. He is growing each of us for His purpose, if we allow Him to. Our traditions change along the way along with our ideals.
What is always the same is that Jesus Chris is the Lamb. We are all sinners, and the price for our sin is death, separation from God. Jesus paid the price and gave us the greatest gift ever given - in His death on the cross. As with a Christmas gift, it isn't "earned" or paid for by the recipient - but it is freely given with love. All we have to do is reach out and accept it.



9 In this the love of God was manifested toward us, that God has sent

His only begotten Son into the world, that we might live through Him.

10 In this is love, not that we loved God, but that He loved us and sent

His Son to be the propitiation for our sins. (1 John 4:9-10 NKJV)
The 1st "advent" was His birth here on earth. The 2nd "advent" will be the 2nd coming - and one we must be prepared for. Our hope remains in Him. The real meaning of Christmas.
Many will be doing an Advent calendar in anticipation of the coming of Christmas, teaching children to celebrate the birth of Christ as a baby, and in preparation of His coming again. It's a season marked by anticipation, and preparation, expectation and longing.
We acknowledge the King of Kings and welcome His return to reconcile a world full of sin and sorrow. The Old Testament tells of a people anticipating the coming of the Messiah, longing for vindication and redemption, from a world of oppression and injustice. The celebration of the coming of our Lord and Savior brings a mixture of great joy and sorrow, as we must fully grasp the meaning - the need for the Messiah in the first place and take it to heart as an individual who is responsible for His sacrifice. He died so that we might live.
We celebrate His coming, but must simultaneously recognize it's purpose. He came, He suffered, and He died - for us.
The nativity cannot be separated from the crucifixion.
Joy and sorrow. Anticipation and hope. He came to die, and rose again. He paid our way.
The modern day beginning of Advent starts off with the "hanging of the green" where boughs of evergreen and wreaths, even trees are brought in to decorate the churches and symbolizes the new and everlasting life through Christ Jesus.
Thanksgiving is sort of our "kick off" for a season of thanks. It's one that we try to maintain throughout the year, but use the holidays as a special reminder of how important it is to be thankful for the blessings, big and small in our lives and to remember God's great gift. Below you will find a couple of ideas for sharing the significance of the season with your children.
One of the traditions we enjoy is singing songs, like Silent Night. Below you'll find links to a brief history of the song with the words - and a printable I made for you to teach your children this age old song of the birth of Christ. There is a print version and cursive as well:
Silent Night - Words and history of the song
Silent Night - printable - print and cursive to learn the words
Take part in Truth in the Tinsel with your kids: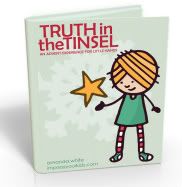 Click here to view more details
(affiliate link)
1000 Gifts and counting:
* My parents are here and take time to come celebrate Thanksgiving with us
* Time with my sister and her sweet boys (6 boys between her and I)
* crazy loud boy time at our house
* forts in the family room
* children enjoying bible time together
* traditional family foods
* Christmas carols passed down and memories they bring
* smell of fresh bread baking in the oven
* comfortable feeling when I'm surrounded by those who know and love me most
* family jokes and stories told over and again around the table
linking with:
Miscellany Monday
Better Mom
Modest Mom
God Bumps
Welcome Home
The Wellspring
#ifellowship Seeds of Faith
-
Thought Provoking Thursday
-
Hear it on Sunday
Gratituesday
Soli Deo Gloria
From My Mountain View
Titus 2's Days
Raising Mighty Arrows
-
Good Morning Girls
-
1
000Gifts
Thankful Thurs
Kids in the Word
Thursday Quick Tip
What Works Wed
Works-4-Me